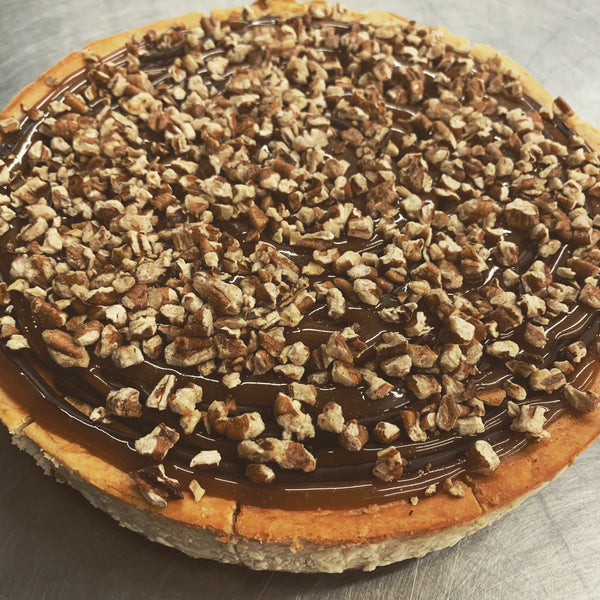 You've found it!!! The only place on the Web to purchase your Holiday Cheesecake. Yummylicious Cookie Company uses Hemme Brother Quark (soft, spreadable, white German-cheese) in all our cheescakes making them lighter texture than traditional cream-cheese based cheesecake. 
The Turtle Cheesecake is our signature dessert. We start with our Yummylicious Chocolate cookie as the base. We then put our Quark-based filling and after all that's been baked with love and care, we cover it with:
House-made Chocolate Ganache: Heavy Cream and Callebeau Semi-sweet chocolate

House-made Caramel Sauce: Butter, Organic Evaporated cane sugar, butter, heavy cream, vanilla

Roasted pecan pieces from Prothe's Pecans

Decadent doesn't begin to explain the experience you have when you indulge your tastebuds with a bite.........
These 9" masterpieces are not available any other place. We have a 48-hour turnaround so don't delay ordering. You will need to pre-order your product and we will contact to arrange delivery/pickup.
Price: $75 - 1 week lead time required!
Place your order above and once we receive your order, we will contact you to arrange the location and time for you to pick up your amazing treat: Local farmer's markets, or at Yummylicious World HQ (14438 W 100th. St., Lenexa, KS).
Thanks for your patronage!............The Yummylicious Cookie Team.
P.S. We will contact you after your order is placed to arrange pick-up time and location.